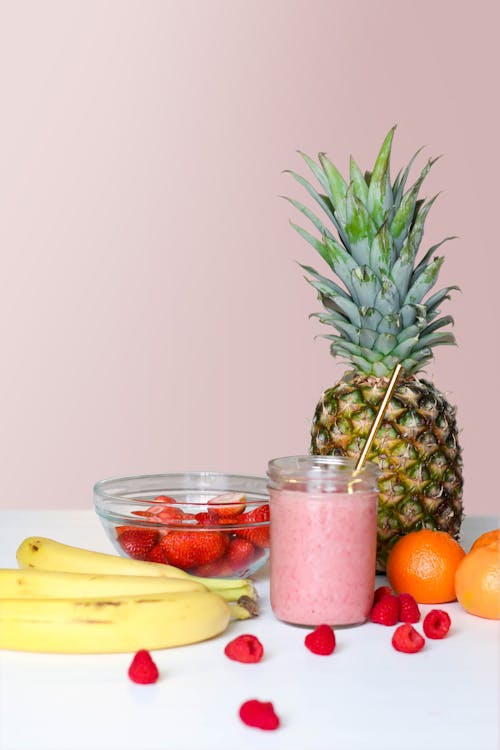 Let's discover the delicious drink known as Bahama mama tropical smoothie recipe that is made with tropical pineapple, white chocolate chips, and sweet strawberries. It is quite easy to make this drink in just a few minutes with simple steps and a high-speed blender. A tasty smoothie recipe to begin your day!
What is a Bahama mama tropical smoothie?
The Bahama mama smoothie is an energizing drink that is a blend of fresh strawberries, coconut milk, white chocolate chips and lastly pineapple or frozen fruit. It has an amazing taste and is quite popular drink at cafes for all right reasons. A perfect balance of refreshing smoothie!
Why You'll Love This Smoothie Recipe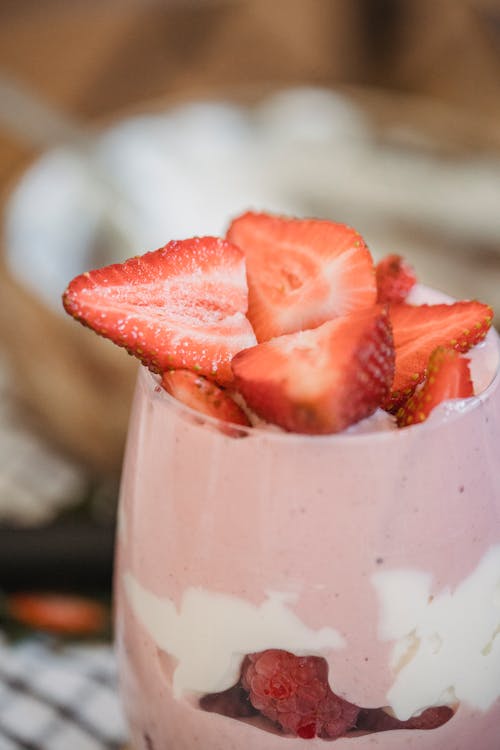 Effortless and convenient:
In under 5 minutes, you can effortlessly create this delightful Bahama Mama recipe at a tropical smoothie cafe using only 5 basic ingredients. It's an ideal choice for a speedy breakfast or snack that will be adored by all!
It offers a wonderfully revitalizing experience, courtesy of the delightful combination of pineapple and coconut milk!
Personalized to perfection:
Smoothies offer infinite possibilities, allowing you to tailor the beverage according to your preferences.
About this Tropical Smoothie Recipe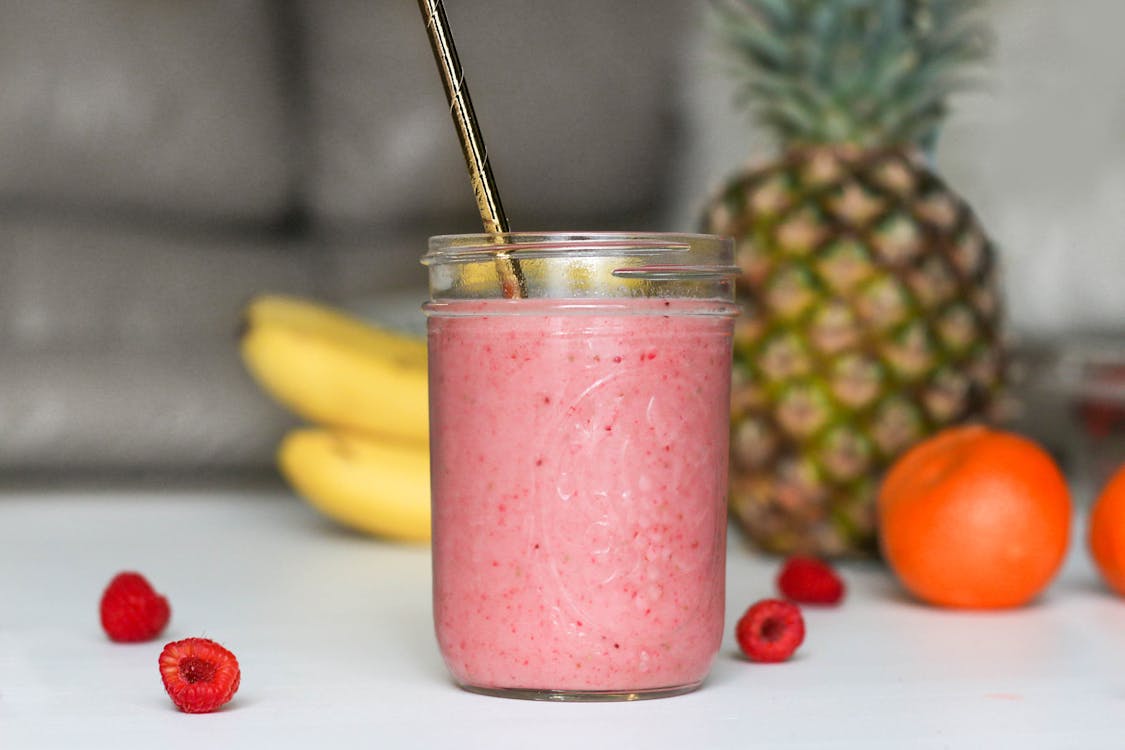 Recipe Ingredients
As we have mentioned before, you only require five simple ingredients to create this tasty Bahama mama tropical smoothie recipe. Here what you should have stored in your kitchen before you start making this bahama mama smoothie:
Frozen Fruit:
The frozen pineapple and strawberries (repeat: not fresh) are important for this smoothie. The frozen ingredients helps to thicken the smoothie to the perfect slushie-like texture and consistency. If you'd like, you could also add in crumpled pineapple.
Coconut Milk:
It adds a tasty creaminess. You can go with any variety of milk. It all depends on your choice. However, it is highly suggested to chill coconut milk, so your smoothie remains thick and cold for longer.
White Chocolate:
It mixes really well with the blend of fresh pineapples and strawberries and imparts a subtle sweetness. You can also go with white chocolate chip powder. You can always customize accordingly your taste and usually bar chocolate works amazing too.
Agave Syrup:
It is entirely optional but if you are a sweet fan then add-in this flavor for extra sweetness. Maple syrup and Honey are one of the best options, too.
🔪 How To Make A Bahama Mama Tropical Smoothie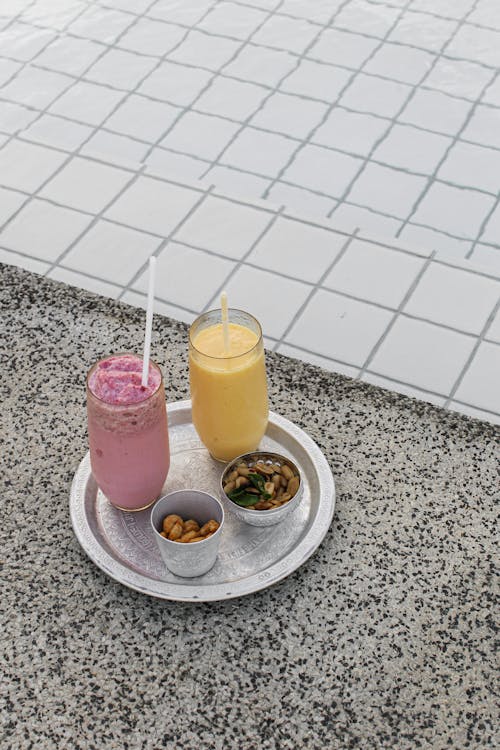 Making the Bahama Mama tropical smoothie is a piece of cake! Not only is it a delicious beverage, but the preparation process is incredibly simple. Here's how you can do it:
Combine chocolate and coconut milk:

Start by adding coconut milk, white chocolate, and agave syrup to the base of a high-powered blender. Give it a quick pulse to chop the chocolate.

Incorporate frozen fruit:

Next, introduce the frozen strawberries and pineapple to the blender. If you're using a regular blender, allow the frozen strawberries to defrost for 10 minutes to soften them slightly, and cut any large fruits in half.

Blend it up:

Blend all the ingredients for about 30 seconds until the mixture turns completely smooth and creamy. Depending on your blender, you may need to pulse a few times to achieve the desired texture and ensure the frozen fruits are well integrated.

Serve and enjoy:

Pour the smoothie into a glass. For an extra touch, you can optionally garnish it with fresh fruit and chocolate sprinkles or top it off with white chocolate chips. Then, indulge in your creation right away!
Besides, if you like the taste of vanilla then for extra protein, make sure to add a scoop of vanilla protein powder as it will incorporate into smooth texture easily.
How to Make This Recipe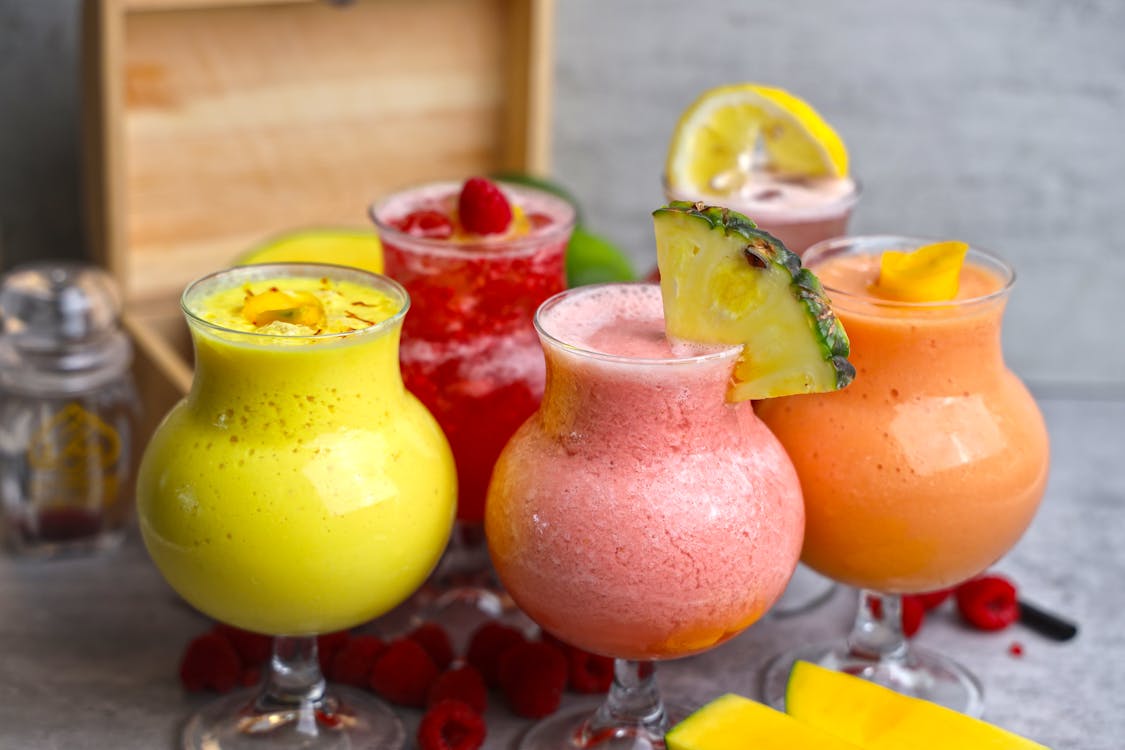 Is Bahama Mama smoothie healthy?
Generally, smoothies are a perfect addition to any healthy diet especially when they do not contain any complex ingredients.
Usually, the smoothies are easily customizable and can be created with fewer ingredients as per your choices. It does not matter where you go for this delicious smoothie, whether it be any Tropical Smoothie or any other Smoothie Queen, it all goes down to the ingredient list in order for it to be healthy.
Overall, smoothies are one of the quickest, easiest and delicious way to get significant nutrients into your diet. It is a healthy replacement to high sugar caloric drinks too.
Be mindful of all the drinks of the overall calories if you want to loose weight. However, it is ultimately healthy and a nutritive Tropical Smoothie.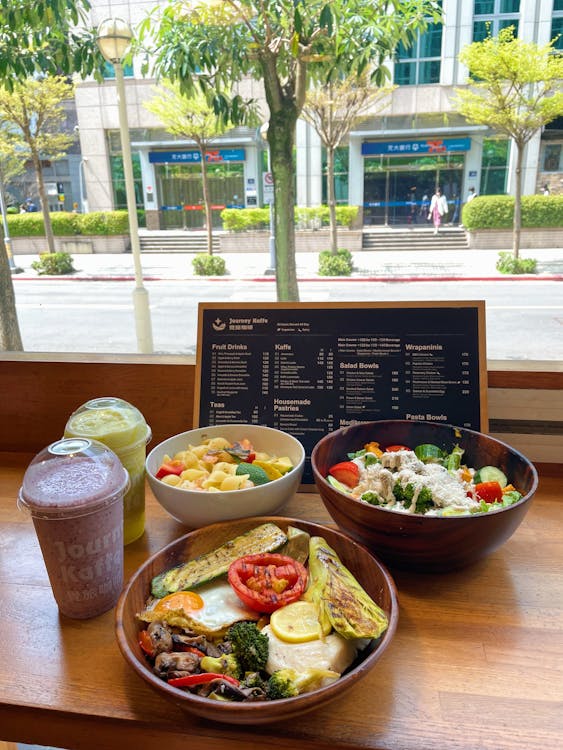 Recipe FAQs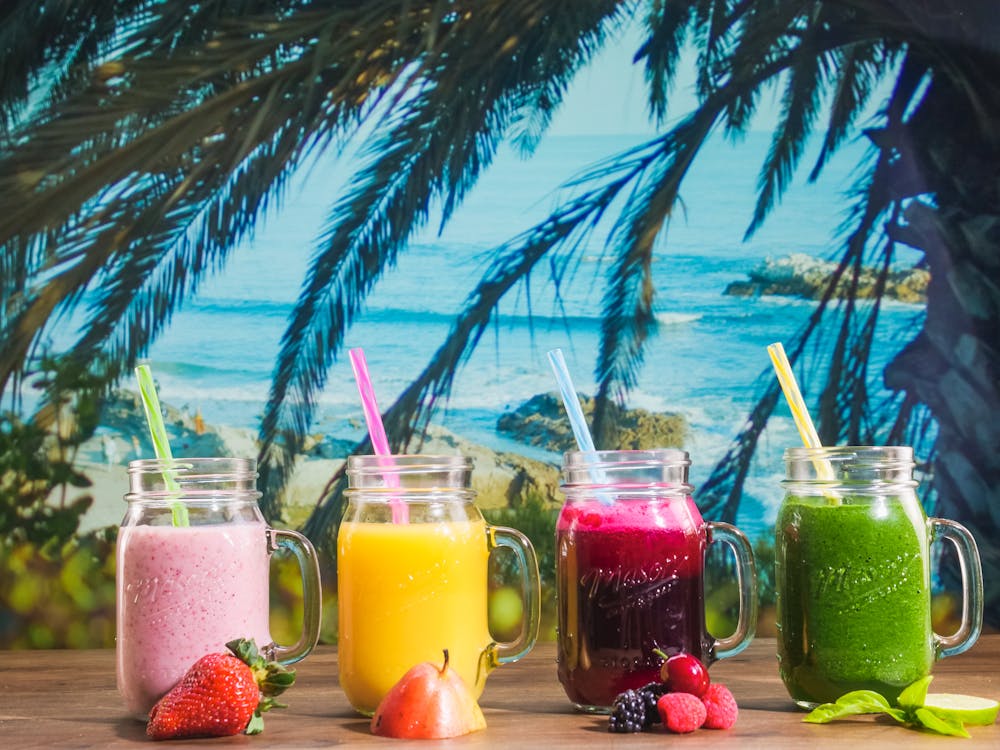 Should I opt for fresh or frozen fruit?
For the best results in achieving a cold and creamy Bahama mama tropical smoothie, it is recommended to use frozen fruits. Using fresh fruit and crushed ice is an option, but it may result in a slightly more watery and grainy texture.
Can I substitute fruit juice for coconut milk?
Certainly! You have several great options for fruit juices, such as orange juice, pineapple juice, coconut water, or apple juice. Keep in mind that using fruit juice will impart a different flavor to the smoothie, so feel free to experiment and find your favorite.
Can I use a different type of chocolate?
Absolutely! If you prefer milk chocolate or semi-sweet chocolate, feel free to use that instead.
Is this smoothie vegan?
No, the smoothie is not entirely vegan due to the white chocolate, which often contains dairy. However, you can easily make a vegan version of the Bahama mama smoothie by substituting in vegan white chocolate.
Can I add protein to this smoothie?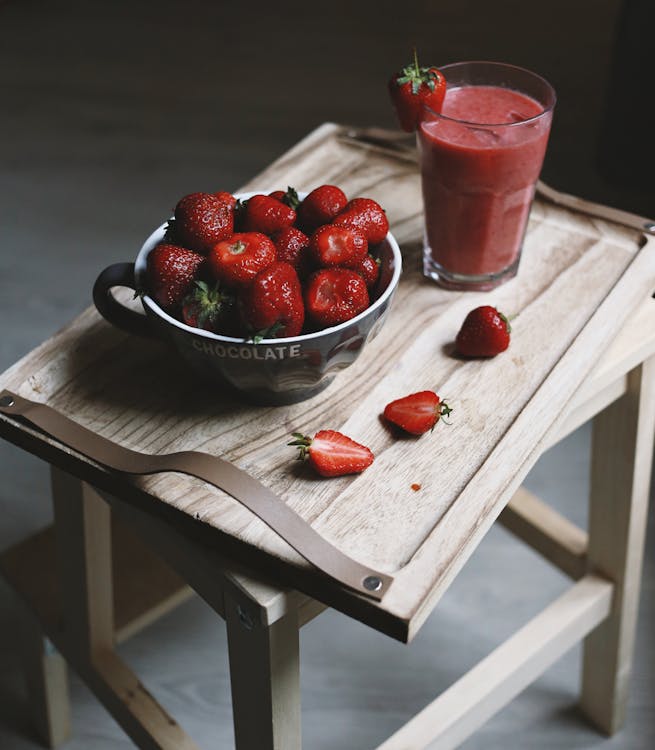 Here are some great ways to incorporate protein into your Bahama Mama smoothie:
Protein Powder:
One of the easiest ways to boost protein content is by adding a scoop of your favorite protein powder to the smoothie. Choose a protein powder that complements the tropical flavors of the Bahama Mama, such as vanilla or coconut-flavored protein powder.
Greek Yogurt:
Greek yogurt is an excellent source of protein and adds a creamy texture to the smoothie. Use plain or flavored Greek yogurt to enhance the taste.
Silken Tofu:
For a vegan-friendly option, try adding silken tofu to your Bahama Mama smoothie. It blends well and provides a creamy texture along with a protein boost.
Nut Butter:
Adding a spoonful of almond butter, peanut butter, or any nut butter of your choice can enhance the protein content and give your smoothie a delightful nutty flavor.
Chia Seeds:
Chia seeds are a great source of plant-based protein and add a subtle crunch to the smoothie. You can soak them in water or milk before adding to the blender for a gel-like consistency.
Hemp Seeds:
Hemp seeds are another excellent source of plant-based protein. They have a mild, nutty flavor and can easily be blended into the smoothie.
Make Bahama mama smoothie ahead of time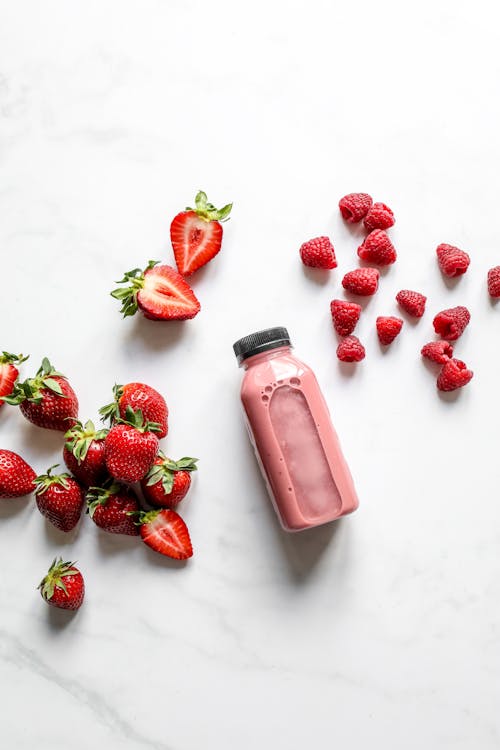 Creating your smoothie ingredients ahead of time is a wonderful time-saving technique for busy mornings or when you're in the mood for a satisfying snack later in the day.
To efficiently meal prep several smoothies, simply divide the smoothie components (excluding the liquids) into freezer-safe ziplock bags. Then, store these bags in the freezer until you're ready to blend and enjoy your delicious smoothie.
More Recipes
Embark on a Tropical Adventure with the Bahama Mama Smoothie Recipe
Indulge in a taste of paradise with the tantalizing Bahama Mama Smoothie! Overflowing with exotic flavors and a nutritious punch, this delightful concoction will transport you to sandy shores and swaying palm trees. Let's dive into this refreshing recipe, perfect for sunny days or when you crave a tropical escape!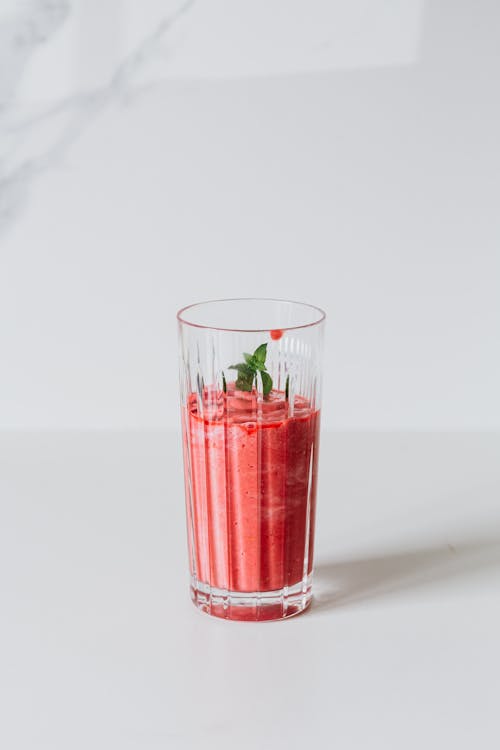 Ingredients:
1 ripe banana
1 cup frozen pineapple chunks
1 cup frozen mango chunks
1/2 cup coconut milk
1/2 cup orange juice
1 tablespoon shredded coconut (optional, for garnish)
Fresh pineapple slices or maraschino cherries (optional, for garnish)
Ice cubes (optional, for a thicker consistency)
Instructions: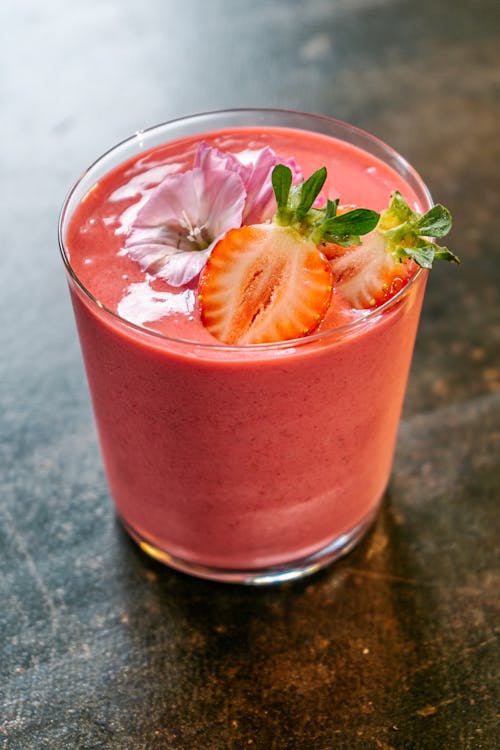 Begin by peeling the ripe banana and cutting it into chunks. Place the banana in your blender.
Add the frozen pineapple and mango chunks to the blender. The frozen fruits ensure a refreshing and chilled Bahama Mama Smoothie.
Pour in the coconut milk and orange juice, providing that creamy tropical essence.
For a thicker texture, you may add a few ice cubes to the blender, but this step is optional based on your preference.
Blend all the ingredients on high speed until achieving a smooth and velvety texture, ensuring the fruits are thoroughly blended.
To accentuate the tropical experience, sprinkle shredded coconut on top of your Bahama Mama Smoothie for a delightful texture.
For an extra touch of paradise, consider garnishing your smoothie with fresh pineapple slices or maraschino cherries, transporting you to an island oasis.
Enjoy your Bahama Mama Smoothie in a tall glass, sipping through a straw or beneath a cute little umbrella, truly embracing the tropical spirit.

A Person Holding a Smoothie
Tips and Variations:
For added creaminess, substitute coconut milk with coconut cream or Greek yogurt.
Enhance the sweetness to your liking by drizzling honey or maple syrup into the mix.
For a protein-packed twist, blend in a scoop of your preferred protein powder or a spoonful of nut butter.
For a refreshing variation, toss in a handful of fresh mint leaves or a splash of lime juice.
Taste the Tropical Bliss!

Pink Smoothie in Glass Beside Dragon Fruit
Now that you have the delightful Bahama Mama Smoothie recipe, embark on a journey to a tropical paradise. With its vibrant flavors and invigorating taste, this smoothie will take your taste buds on a tantalizing vacation. So, grab your blender, play the mixologist, and relish the delightful experience of the Bahama Mama bliss. Here's to tropical delights and sun-kissed smiles! Cheers!